Florida Psychic - Christine Lynn
Just like any other flower, a spirit needs to be planted in the right soil!
A former wash, DC native, I finally found my native soil in Central Florida
and the natural energy of the Sunshine State. Living amid the hustle and bustle of a large city sent my spirit on a quest for a better life in the warmth of the
Florida sun
.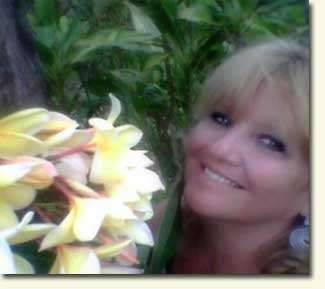 Florida Psychic - Christine Lynn
After much consideration, I decided to leave the intense environment of Washington and relocated to the slower paced
Florida lifestyle
, where I could ground myself and concentrate on what really matters to me.
As a mother of two, I place relationships at the top of the list for lasting happiness in this life. Setting a slower pace engulfed with
nature
and a mild climate seemed the most logical choice for our new lives.
If you've ever seen an egret slowly fly by a setting sun in the Everglades...
...or experienced a rising sun over one of the white sandy beaches along the
Florida Space Coast
, you've already been enlightened by this magical place I call home. I find my connection with God and the Universe right here. Simply strolling along the beachside late at night, under the star filled skies connects me straight to my higher source. The rolling waves wash up to caress the seashore, filling my soul with healing energies, which allows me to remain spiritually "connected".
The charm and history that encompasses Florida's cities
of
Key West
and
St. Augustine, Florida
allow me a quaint weekend getaway where I can bask in the energies of days gone by. Being a natural psychic empath, it's always entertaining to be able to "pick up" on situations of days gone by in historical locations.
The Florida Keys
are graced with a storybook abundance of breathtaking scenery and nature.
Simply driving the distance from
Key Largo to Key West
is a magnificent feast for the eyes. For the average person, this is simply medicine for the soul. The experience for a "super sensitive" is phenomenal!
Florida's abundant wildlife sets the stage for a life flow of divine energy.  I'm deeply inspired to be of service to others when remaining closely connected to this flow. The awe-inspiring relation to the "bigger picture" is right here, in the midst of sub-tropical Florida and all of her natural beauty. An awakened state of consciousness is obtained
by simply living here.
Pelican Island, located in Sebastian, Florida, is the United States' first national wildlife refuge. During a quiet stroll through this refuge, bountiful species of birds can be seen. Watching the species while they roost on the same island is a reminder of how, although we individualize our lives, we are sharing this earth together… as a single life force. This experience stands as an example of our natural connection as a whole.
The sea is my church, my place of peace where I connect with God the most. It is there my soul is intensely replenished and filled more than anywhere else. This is where I practice meditation/prayer with deep love and reverence for life.


Christine Lynn+ © 2011 Florida Psychic / Christine Lynn